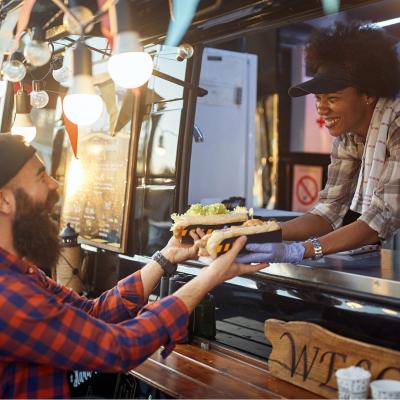 Street Food & Drink
The aroma of spices wafting through the air, the sizzle of meats on a grill, the vibrant chatter of a crowd eagerly lining up — these are the sensory signatures of street food, a phenomenon that has woven its way through the fabric of societies across the globe. From the bustling night…
More
The aroma of spices wafting through the air, the sizzle of meats on a grill, the vibrant chatter of a crowd eagerly lining up — these are the sensory signatures of street food, a phenomenon that has woven its way through the fabric of societies across the globe. From the bustling night markets of Taiwan to the colorful food carts of Mexico, street food is an integral thread in the cultural tapestry of our world. It's a culinary tradition that offers a window into the soul of a place, telling stories of migration, trade, conquest, and community.
Street food's origins can be traced back to ancient times, where in bustling marketplaces and on busy streets, vendors served up ready-to-eat fare to passersby. In ancient Rome, thermopolia provided hot meals to those without kitchen facilities, while in the East, travelers on the Silk Road encountered a variety of sustenance provided by local vendors. This was the inception of a gastronomic journey that would span centuries, adapting and flourishing with each culture it touched.
As civilizations evolved, so did their street food offerings. Medieval Europe saw the rise of pies and pastries, easy to eat on the go, while Asia's night markets began to form, becoming a staple of local economies and social life. The street food scene was vibrant, diverse, and, above all, accessible. It was food democracy in its purest form, available to all levels of society.
In the modern era, street food has become a symbol of urban life. The industrial revolution brought masses to the cities, and street food adapted to serve the needs of the burgeoning working class. Post-war periods saw an explosion of street food culture, as people sought comfort in the familiar and joy in the simple pleasures of a well-cooked meal. Today, the humble street food stall has taken on new life in the form of food trucks and pop-up eateries, serving everything from traditional fare to avant-garde cuisine. The street food vendor, once seen as a mere peddler, is now a celebrated chef, an innovator, and an entrepreneur. The culture of street food has never been more vibrant, reflecting the dynamic, ever-changing fabric of society.
Looking to the future, street food faces new challenges and opportunities. Health and safety regulations, the push for sustainability, and the integration of technology are shaping the way we think about and consume street food. Yet, the essence of street food remains the same — it is the people's food, a testament to the resilience, creativity, and communal spirit of humanity.
Less