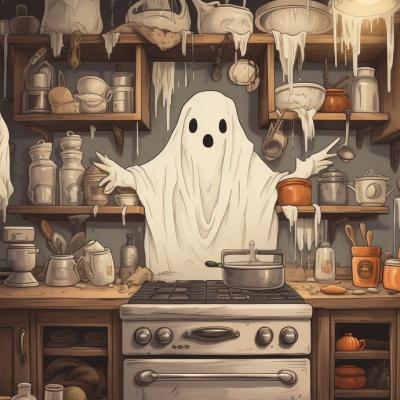 Ghost Kitchens
A virtual restaurant (also known as a ghost kitchen) is a food service business that serves customers exclusively by delivery and pick up based on phone and online ordering. It is a separate food vendor entity that operates out of an existing restaurant's kitchen. By not having a…
More
A virtual restaurant (also known as a ghost kitchen) is a food service business that serves customers exclusively by delivery and pick up based on phone and online ordering. It is a separate food vendor entity that operates out of an existing restaurant's kitchen. By not having a full-service restaurant premise with a storefront and dining room, virtual restaurants can economize by occupying cheaper real estate. The reduced space lowers overall overhead and operational costs, thus yielding higher profit margins without reducing the price of the food provided. The ghost kitchen's lack of a retail presence allows for multiple restaurants and brands to buy into it.
Virtual restaurants gained significant cultural and economic currency during the COVID-19 pandemic in 2020, when many restaurants were either completely idled due to restrictions on public dining, or curtailed significantly as very low numbers of patrons were permitted to be served on-premises even as the situation recovered. At the same time, demand for home delivery of food expanded as people were required to stay at home. Ghost kitchens helped brick-and-mortar restaurants recoup their losses and minimize employee layoffs by allowing them to prepare food for multiple brands and keep themselves in business.
The COVID-19 pandemic accelerated the growth of the ghost kitchen industry by five years within three months in 2020. Many restaurants survive due to ghost kitchens and the food delivery options they make available. This spike in growth is predicted to potentially create a $1 trillion industry by 2030.
Virtual restaurants are set up within existing restaurants, allowing businesses to cut costs by sharing space. Virtual restaurants also save money by avoiding dine-in service through reliance on delivery service. Virtual restaurants rely on their own delivery drivers or third-party delivery apps such as Grubhub, Uber Eats, Postmates and DoorDash to deliver food to customers. However, some companies also incorporate their own delivery system into the business model.
A typical virtual restaurant location is able to accommodate the preparation of several different types of cuisines. The strategy of having multiple brands and cuisines can target a broader range of customers. Food can be prepared by specialty chefs or any range of cooks. Virtual restaurants are intended for people looking for culinary foods and convenience, often locally or close to them.
Virtual restaurants have become popular during the COVID-19 pandemic due to the increase in social distancing and work-from-home policies. Uber Eats has helped launch over 4,000 virtual restaurants around the world.
Some examples of virtual restaurants include Pasqually's Pizza & Wings which operates out of Chuck E. Cheese, Wing Squad which operates out of Buca di Beppo, Neighborhood Wings which operates out of Applebee's, It's Just Wings which operates out of Chili's, and The Wing Experience and The Burger Experience which operate out of Smokey Bones Bar & Fire Grill.
In 2020, rapper Tyga partnered with Robert Earl and Virtual Dining Concepts to launch a series of virtual restaurants called Tyga Bites which is delivered only through Grubhub and operates out of existing restaurants' kitchens.
Your Guide to Finding the Best Ghost Kitchens
Introduction
Definition of ghost kitchens, history and evolution of ghost kitchens.
Advantages of Ghost Kitchens
Cost Efficiency
Explanation of how ghost kitchens offer cost savings compared to traditional brick-and-mortar restaurants.
Increased Flexibility
Ghost kitchens offer increased flexibility because they do not require a physical storefront. This allows ghost kitchens to operate in areas that may not be suitable for traditional restaurants.
Reduced Risk
Ghost kitchens can test new concepts and menus without the high costs associated with opening a traditional restaurant. This can help reduce the risk for entrepreneurs and small business owners.
How to Find the Best Ghost Kitchens
Use Bistro Buddy
Bistro Buddy is a comprehensive resource for finding the best ghost kitchens near you. The platform allows you to search for ghost kitchens based on location, cuisine, and customer ratings. It also provides detailed information about each ghost kitchen, including menus, prices, and customer reviews.
Check Online Directories
There are several online directories that list ghost kitchens, such as GhostKitchenReviews.com. However, these directories may not be as comprehensive or up-to-date as Bistro Buddy.
Ask for Recommendations
Ask friends, family, and coworkers for recommendations on the best ghost kitchens they have tried. Social media platforms, such as Facebook and Twitter, can also be great resources for finding local ghost kitchens.
What to Look for in a Ghost Kitchen
Quality of Food
Make sure the ghost kitchen you choose offers high-quality food that meets your expectations.
Customer Service
Good customer service is important when choosing a ghost kitchen. Look for businesses that prioritize customer satisfaction.
Location and Delivery
Consider the location of the ghost kitchen and its delivery options. Choose a ghost kitchen that is conveniently located and offers delivery options that work for you.
Conclusion
Ghost kitchens are an emerging trend in the food industry that offer many advantages over traditional brick-and-mortar restaurants. By using Bistro Buddy and following these tips, you can easily find the best ghost kitchens near you and enjoy delicious meals from the comfort of your own home.
Less