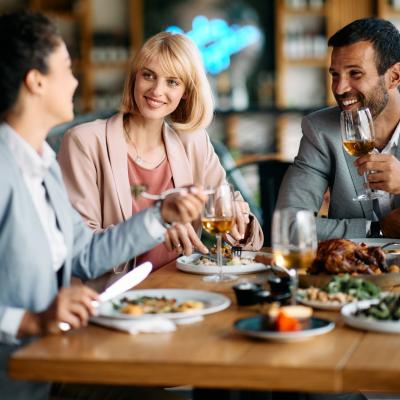 Restaurants
Explore BISTRO BUDDY'S Top 100 Restaurants
From upscale fine dining establishments to quaint, family-owned bistros, BISTRO BUDDY'S Top 100 Restaurants near you showcases an eclectic mix of dining experiences, with options for every occasion and budget. Indulge in the mouthwatering flavors…
More
Explore BISTRO BUDDY'S Top 100 Restaurants
From upscale fine dining establishments to quaint, family-owned bistros, BISTRO BUDDY'S Top 100 Restaurants near you showcases an eclectic mix of dining experiences, with options for every occasion and budget. Indulge in the mouthwatering flavors of diverse cuisines and savor the unique atmosphere each restaurant has to offer.
Featured Cuisines
With a melting pot of cultures, the area near you boasts an impressive culinary landscape. BISTRO BUDDY'S Top 100 Restaurants list features a variety of cuisines, including Italian, French, Japanese, Mexican, and more. Embark on a gastronomic journey around the world, all without leaving your vicinity.
Unique Dining Experiences
In addition to the exceptional food, our list highlights restaurants that offer one-of-a-kind dining experiences. From trendy rooftop bars with panoramic views to intimate speakeasies that transport you to the roaring '20s, there's always something new and exciting to discover in the culinary scene near you.
Share Your Favorite Local Eateries on BISTRO BUDDY
Join BISTRO BUDDY'S vibrant food and drink community by sharing your favorite dining spots in your region. Whether you're a restaurant owner or a passionate food lover, your contributions help others discover the hidden gems and must-visit eateries in your area.
Posting Your Own Business
Showcase your restaurant on BISTRO BUDDY by creating a detailed business listing that highlights its unique offerings, such as signature dishes, live entertainment, or weekly specials. This is a fantastic opportunity to reach a wider audience and attract new customers.
Rating and Reviewing Restaurants
Share your dining experiences and help others make informed decisions by rating and reviewing the restaurants you visit. Your honest feedback not only benefits fellow food lovers but also supports local businesses in their quest to continuously improve and innovate.
Connect with BISTRO BUDDY'S Food and Drink Community
By engaging with BISTRO BUDDY'S food and drink community, you'll stay updated on the latest culinary trends, discover new eateries, and connect with like-minded individuals who share your passion for gastronomic delights.
Join Our Newsletter
Subscribe to the BISTRO BUDDY newsletter to receive exclusive updates, special promotions, and insider tips on the best places to eat and drink in your area. Be the first to know about new restaurant openings, upcoming food festivals, and culinary events.
Follow BISTRO BUDDY on Social Media
Stay connected with BISTRO BUDDY on social media platforms like Facebook, Instagram, and Twitter. Participate in online discussions, share your foodie adventures, and connect with fellow gastronomes in your area and beyond.
Attend Local Food and Drink Events
Explore the thriving food scene near you by attending local food and drink events, such as wine tastings, food truck festivals, and cooking classes. These events provide a unique opportunity to sample diverse cuisines, learn new skills, and network with fellow food enthusiasts.
Less